Intelligent Alarm AR6000C
How does it work
Originally designed for the military use, the Alert Rouge home alarm system detects and analyses vibrations and change in air pressure caused by a tentative of intrusion, dissuades and alerts immediately, when a door or a window is forced open.
Analyses
Analyses all noises
in my entire house
Detects
Detects changes
in the environment caused by an external impact


Filters
Innovative dual-level noise filtering technology immetiately detects unwanted noise and triggers the alarm
AR6000C senses break-in attempts, triggers alarm and alerts you while an intruder is still on the outside. According to police, in 95% of cases, the intruder leaves when hearing the alarm.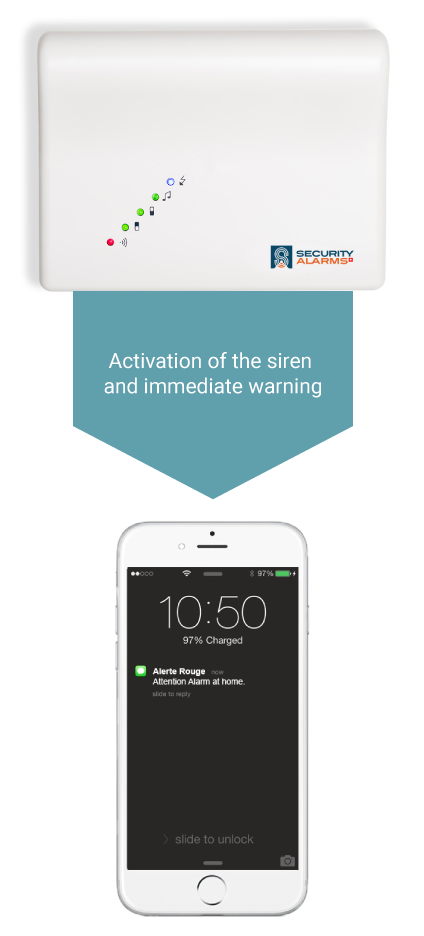 Compare AR6000C home security system
Traditional system
Traditional alarm systems as well and DYI solutions use motion and door opening detectors. They are adapted to the protection of your home, but they fail to do what is most important: dissuade and inform before something unusual happens.
AR6000C System
Easy to use, the AR6000C home alarm system triggers the siren immediately and BEFORE the intrusion. It is perfectly adapted to your live, allowing free movement when activated. And it is pets friendly! Advanced dual-level technology filters the information and notifies you immediately in case any suspicious activity is detected.
| | Traditional system | AR6000C |
| --- | --- | --- |
| Protects all rooms | Not always | Yes |
| Triggers siren immediately | No | Yes |
| Allows presence of animals | No | Yes |
| Requires subscription | Yes | No |
| Easy to move | No | Yes |
| Installation Time | Days | Hours |
| Rate of false alerts | > 95% | < 5% |